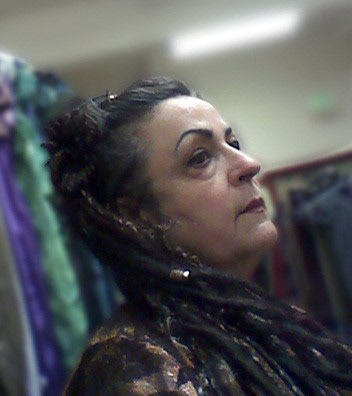 Statement     
My  artwork reflects my interests as a history buff, ardent traveler, global citizen, and  lover of all arts from folk to classic.  Mexican retablas and Buddhist shrines, ancient and modern Mediterranean  art and iconography,  Persian  illuminated manuscripts, Art Brut and street art,  all  inspire  me to synthesize, reflect and produce new forms and visions.   My work process is therefore adaptable and variable:  collage, acrylic, gouache, assemblage, henna paste, body paint, photography and altered photographs -- all are fruitful tools for the creation of my work.   
            Although my pieces can be highly decorative, they frequently contain intimations of gender, power and domination, social struggle and spiritual quest.  Much of my current work reflects political changes and ecodystopianism.
           I am inspired by work that is beautiful, interesting, challenging, and edgy all at the same time, and that is what I seek to express.   These widely diverging aspects affect my paintings and appeal to my higgledy-piggledy aesthetic and anarchic internal dialogue.  
            My hope is that the viewer will share some of the elation I feel when under the spell of a provocative creative process. 
Bio   
Kree Arvanitas is a mixed-media artist based in Seattle, with cultural and family roots in Greece and Western Europe (Netherlands).  An autodidact, she has been illustrating or drawing since childhood. 
          Currently she is focusing on acrylic, gouache, altered photos, mixed-media and collage as her 'weapons of choice.'   She has explored a variety of techniques over the years from pen and inks, digital collage, watercolor, mini sculpture (polymer, papier-mâché and paper-clay).  Using primarily acrylic, mixed media, found objects, altered photographs and collage, she juxtaposes odd concepts, often mixing various styles and historical periods, acrylic, gouache, fabric, found objects.  Color, detail, fragmented patterns, dreamscapes, anachronism, humorous cues and a healthy dose of irony make up her weapons of choice. 
          Kree's work has appeared in a variety of media, including on NY Times best-seller "Tiger's Saga" series, Roseanne Gault's book on paper-clay, various magazines, and even a European biology student textbook.  
Most recently her piece "Twitter Revolution in Heaven" was featured on the cover of a new book by scholar and author Sima Shakhsari published by Duke University Press.  
          Kree  co-curated the exhibit "Artful Henna" in 2010 (with artist Jeanie Lewis) which featured henna-inspired art on and off the body from internationally acclaimed body artists; and curated "Tesseract: 4 Artists, 4 Dimensions" in 2015 featuring three other outstanding Seattle artists (Matthew Potter, Lesley Rialto and Jeanie Lewis).   
She has participated in many group shows in Seattle, in a few solo shows and as featured artist.  
  Kree's work has been featured in "Elegant" and "Obscurae" online magazines. 
           Kree is a member of CoCA (Center On Contemporary Art) Seattle and A/NT Gallery in Seattle, Washington.  Kree shows in local galleries and hopes to expand opportunities to exhibit and study.
           In a recent interview on the UW program, "RadioActive" the interviewer stated that Kree's work is "Magical, mythical, political… otherworldly, a sumptuous feast for the eye… An uncanny ability to combine disparate imagery that addresses current sociopolitical dilemmas through traditional artistic motifs… medieval Iranian angels twittering with their blackberries; or traditional Greek shadow puppets ouzo-bombing the World Bank."